Online Store Coming Soon.  Our online purchase system is not available yet, but you can still contact Hempfield Fire Equipment, LLC today to order any of the items you see on this page, and on the catalog links in the right column and with current for sale items.
Fire Fighting Essentials
Hempfield Fire Equipment, LLC, offers a selection of essential fire fighting and emergency response gear. We ship our products nationwide. If you have any questions, please don't hesitate to Contact Hempfield Fire Equipment today.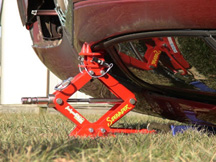 Rescue Struts and Sidewinders
From Junkyard Dog Industries: Rescue Struts and Sidewinders.
A recent purchase.
Mi-TIC 160-3  Sandy Hose Co #1.
Argus IV Thermal Imaging Camera
Argus™4 is the latest generation of Argus™ Thermal Imaging Camera (TIC) from e2v technologies. The Argus™4 has been designed with digital imaging technology for a sharper picture and uses the highly successful Amorphous Silicon (ASi) Microbolometer Detector that is in use by many of the world's fire brigades.

The Argus™4 is a simple-to-operate, robust, self-contained camera, with fully automatic operation.  To read more, download the PDF on Features, Specifications, and Accessories.  (Adobe Reader required.)
Customers that have purchased the ARGUS IV:  Grapeville Volunteer Fire Company, Penn Boro Volunteer Fire Company, Claridge Volunteer Fire Company, Fort Allen Volunteer Fire Company, Elk Run Volunteer Fire Company of Punxsutawney, and Delmont Volunteer Fire Company.
Interested in Demo Time with the Argus IV?  Contact Dan@HempfieldFireEquip.com.
BIGWIG Rescue Tool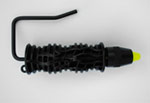 Invented by a firefighter. This handheld, glow-in-the-dark tool aids rescue teams in marking doors, securing doors open, and providing a visual trail out of burning buildings.
Leaves the door wide open to a safer, faster, and more efficient search.
Akron Firefighting Nozzles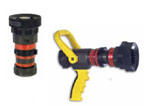 Tested, Proven, Trusted. Firefighting Nozzles from Akron Brass Company are well known and respected industry wide for their reliability and effectiveness.
Phos-Chek Class A Foam Fire Retardant
Phos-Check Class A Foam is among the world's leading fire retardant solutions. Phos-Check offers safe and effective fire fighting chemicals, meeting the needs of municipal fire fighting teams everywhere.
Fast Attack 1 Skid Unit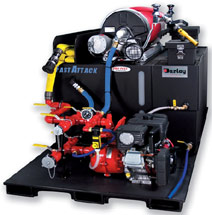 The firefighting Fast Attack Skid Unit from Darley can fit small trucks and is quickly deployed.  Includes diesel engine and hoses.
Most recently purchased by Fort Allen VFC along with Class A Foam.
Standard Equipment with Fast Attack 1 Skid Unit:
13 HP Twin impeller Darley® Davey pump with Briggs Vanguard engine and 200 Gallon Pro Poly tank.
F4000 Hannay electric rewind reel
100′ of 1″ booster hose, self priming up to 19′
1.5″ or 2.5″ NST suction adapter
1″ tank recirculation
1.5″ tank to pump and discharge
Forklift to standard pick-up bed
For All Your
Fire Equipment Needs
Visit any of the websites below, find your product, then check back with us for the best service and pricing!
Contact: Dan@HempfieldFireEquip.com 
Items for Sale:
Fire Dex Leather Boots  FDXL 200:
1 pair  8 W
2 pair  8 M
1 pair 10 M
1 pair  10.5 W
1 pair 11 M
1 pair 11.5 W
1 pair 12 XW
LION Leather Boots:
 1 pair 11.5  M
HONEYWELL Leather boots:
1 pair 10.5 M
Contact Hempfield Fire Equipment, LLC today to order any of the items you see above.