Fire Equipment for Western Pennsylvania
Hempfield Fire Equipment, LLC – an experienced supplier of fire fighting equipment and supplies to local fire departments and emergency responders. 
HFE trucks feature rugged PolyBilt, copolymer bodies and lifetime warranty pumps. 
From Akron Brass Company nozzles and Phos-Chek Class A Foam to BigWig rescue tools, you can rely on Hempfield Fire Equipment to find and offer the best in fire fighting emergency rescue equipment. 
Hempfield Fire Equipment, LLC is a Western Pennsylvania Franchise Dealer for W.S. Darley & Company, and we offer our customers a 21st Century selection of the best in: 
Fire Engines
Fire Equipment
Fire Pumps
Fire Fighting Tools
Fire Fighter Gear
Fire Retardant  
Learn more on our About Us page, or Contact Hempfield Fire Equipment today.
Announcement!  Limited Time!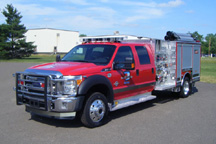 Demo Truck 3130 DARLEY 1500 GPM
Hempfield Fire Equipment has a new DEMO truck available from August 1st through August 17th.  
Six Year Warranty on Pump, 300 water, 25 gallon Class A Foam cell, COMPRESSED AIR FOAM, Poly-Bilt fire body - Lifetime Warranty on body, foam and water tank.
Learn more and see more pictures on our Demo Vehicles page.
Why Rely on Hempfield Fire Equipment, LLC?
Owner Daniel P. Nescot, a 20 year veteran as Fire Chief of a local VFC, has the knowledge and industry contacts to meet your needs with timely, affordable, and reliable service.   A knowledgeable source for the best in first responder equipment, tools, and gear, Hempfield Fire Equipment supports its customers with the dedication and integrity you deserve.
Contact Hempfield Fire Equipment today for exceptional expertise, great products, and affordable pricing.