About Hempfield Fire Equipment
P.E.M.A Certification
The Board of Supervisors presented Dan Nescot, deputy coordinator with the Hempfield Township Emergency Management Agency, a certificate from the Pennsylvania Emergency Management Agency.
Mr. Nescot successfully completed certification requirements for municipal deputy emergency management coordinators. Hempfield is one of only a few municipalities to have both its coordinator and deputy coordinator P.E.M.A. certified. Great job Dan!
Hempfield Township Board of Supervisors on May 29, 2012 appointed Daniel Nescot Director of Hempfield Township Emergency Management Agency.
Owner Daniel P. Nescot
Daniel P. Nescot, owner of Hempfield Fire Equipment, LLC, brings a lifetime of Fire Service experience to the table, having started in Fire Service with the Grapeville VFC in 1976, where he is a Lifetime Member and currently serves as Fire Chief.
Before founding his own fire and emergency equipment company, Dan worked as an independent Sales Rep for W. S. Darley & Co from May 2006 to August 28, 2009 when he started Hempfield Fire Equipment, LLC.
Hempfield Fire Equipment, LLC is a Franchise Dealer for W.S. Darley & Co.
Dan's previous work experiences were with:
Brake Drum and Equipment Company 1979 -1997 (PSD brought BDE)
Point Spring & Driveshaft Company-1997-1998
Working in the Heavy Duty Truck Parts industry starting out as Warehouseman, Delivery Driver, Inside Counter Sales, the Outside Territorial Sales.
The Farfield Company 1998 – 2007 Tractor Trailer Driver, Equipment Operator and Laborer
Point Spring & Driveshaft CO – 2007-2010 Counter and Outside Territorial Sales
To learn what Hempfield Fire Equipment, LLC can do for your organization, please Contact Us today.
Dan Nescot's Qualifications Include:
Grapeville VFD Fire Chief, September 2012 – to present
EMA Director from May to November, 2012
EMA Quatermaster, May 2013
Director of Hempfield Emergency Management Agency
Water Rescue Awareness
PA Certification as Deputy Director in EMA
NIMS: 100, 200, 300, 400, 700, 800b
Life Member Grapeville VFC
President of Grapeville VFC 2010-2011
Life Member Hempfield Township Fire Police
Hazard Mitigation Benefit Analysis Course
P_G-318 Mitigation Planning Training (11.1)
EVOC Extended
Mall firefighting
Firepolice Training
Interior Attack Fire Fighting
Deputy Director of Hempfield Township EMA
Fire Police with Grapeville VFC
Hempfield Fire Chief Association
Hempfield Fire Police Association
Member Westmoreland County Fireman's Association
Member Westmoreland County Fire Chief Association
Member NFPA
Structural Fire Fighting
CAFS Training
SCBA certified
Vehicle Rescue Technician
Advance Vehicle Rescue
Special & Bus Rescue
EVOC Drivers Training
Courage to be Safe – Everyone Goes Home
Air Bag Implications Training
Pipeline Emergency Training
Hazmat Awareness Pro Board Certified
Hazmat Operationals Certification
Rail Transportation Hazmat Training
Rural Water Movement
Ventilation
Fire & Arson Investigation
AED- CPR – Infant, Basic First Aid
Experience at Grapeville Volunteer Fire Company
Fire Police Captain with Grapeville Volunteer Fire Company
President of Grapeville VFC 2010-2011.
Held Line Officers position of Lieutenant & Captain for one year each
Assistant Chief for 6 years
Fire Chief 1990 – 2009 – 20 years all at Grapeville VFC
Grant writer from 2001 thru 2009 for Grapeville VFC for PA State, DCED grants and FEMA
Darley Fire Pump Training 2010
Successful in writing and awarded FEMA grant in 2002 for Grapeville VFC for equipment upgrades
Successful in writing and awarded FEMA grant in 2004 for Grapeville VFC for 4×4 Darley CAFS truck to replace 1976 dodge 4×4 mini pumper.
Instrumental of replacing 1971 Ford Howe pumper, and 1976 Dodge 4×4 mini pumper/rescue with 1992 International Rescue / Pumper, and updating the 1992 in 2002 with light tower additional Hurst hydraulic reels and equipment.
Acquired 1986 E-One pumper from Cherry Hill, New Jersey in 1998 replacing 1973 Ward LaFrance which served Grapeville Community thru 2008.
Acquired in 2009 a 1995 HME pumper from Patton PA to replace 1986 Engine Pumper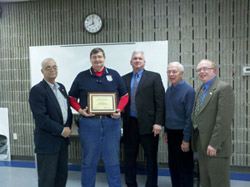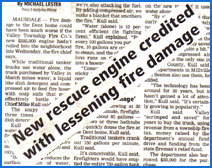 Compressed air foam is 98% efficient, gaining a huge advantage over fires, with less property damage.